Oct 30, 2006
Flickr Graph is an award winning application (FITC awards 2005) developed by Marcos Weskamp that explores the social relationships inside flickr.com. It makes use of the classic attraction-repulsion algorithm for graphs.
Try Flickr Graph here
Oct 11, 2006
2007 ASCA International Conference
Location: Amsterdam Dates: 28-30 June 2007
Organized by the Amsterdam School for Cultural Analysis (ASCA), the Institute of Network Cultures (Amsterdam Polytechnic) and Media Studies at the University of Amsterdam, has issued its first call for papers. The conference, to be held on Thursday, 28 June to Saturday, 30 June, 2007, also includes a public program with renowned speakers.
Deadline for Submission of Paper Abstract (500 words) and Biography (100 words): 10 January 2007 :: Submit to: networktheory[at]networkcultures.org :: Acceptance Notification: 1 March 2007 :: Further inquiries to: Dr. Eloe Kingma, Managing Director, Amsterdam School of Cultural Analysis, Oude Turfmarkt 147, Oude Turfmarkt 147, 1012 GC, Amsterdam, tel: +31 20 525 3874, asca-fgw[at]uva.nl.
The object of study has shifted from the virtual community and the space of flows to the smart mob. When the object of study changes, so may the distinctions that dominate, particularly the schism between place-based space and place-less space, both organised and given life by networks. We would like to exploit the potential of writing contemporary network theory that suits and reflects the changes to the objects of study that come to define our understandings of network culture - a post-Castellsian network theory, if you will, that takes technical media seriously.
It is time to look for elements that can make up a network theory outside of post-modern cultural studies (which marvelled at the place-less place) and ethnographic social sciences (which reminded us of the ground). What network culture studies needs is a `language of new media,' perhaps even signage, to speak in terms of Lev Manovich; what it currently has is a science-centered `unified network theory,' to paraphrase the language of Albert-László Barabási.
Whilst it may come as no surprise to critical Internet scholars, the notion that networks are not random but have underlying structures remains the key insight for network scientists. Instead of posing new questions, the work that follows from that insight often seeks to confirm that structure and its accompanying patterns, across more and more network-like objects. The question remains which specific contribution critical Internet scholars and practitioners can make to opening up network thought. Such is the purpose of the network theory conference. How must we rethink network culture with a renewed emphasis on technical media and social software?
Suggested Topics:
Networking and Social Life
Social Software and Insider Networks
Network Policy
Network Governance / Organised Networks
Actor-Network Theory and the Assemblage
Network Knowledge Production
Networks and Disengagement
Media Networks
The Link
Locative Media and Networks

Aug 01, 2006
Jan 22, 2006
Chris McKinstry, founder of the Mindpixel project, has expressed suicide intentions on his blog.
Two postings appeared on Friday, 20 January 2006, suggesting that McKinstry has committed suicide by drug overdose.

The wikipedia entry on Chris McKinstry has been upgraded on Friday with his suicide announce. This contains a link to a forum, where he re-posted the suicidal note appeared on his blog. McKinstry said he was posting from an Internet cafè in Chile. Forum participants have tried to dissuade McKinstry and to identify his precise location in Chile tracking the IP address. They also contacted the US embassy in Santiago, which turned the case over to the Canadian embassy (McKinstry is a Canadian citizen).
There have been no new postings on the forum since yesterday morning.
Oct 20, 2005
Via Wired

The CommonCensus Map Project is redrawing the map of the United States based on users' voting, to show how the country is organized culturally, as opposed to traditional political boundaries. It shows how the country is divided into 'spheres of influence' between different cities at the national, regional, and local levels.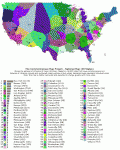 The third national map has been produced, based on the first 16,000 votes
Sep 19, 2005
Down through the media, overhead machineries will make us hear the voice of the multiple. Still indiscernible, soften by the hazes of the future, flooding another humanity with its murmur, we have an appointment with the surlanguage
Pierre Lévy – "Collective Intelligence"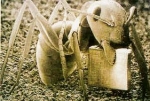 The Transitioner.org is wiki which brings together those who want to marry the economy and Collective Intelligence in order to build a fair world.
Discover here if you are a transitioner (I discovered I am)

More to explore
Blog of Collective Intelligence
Improving the efficiency of social ecosystems
Collective intelligence in social insects
Sep 17, 2005
via Future Feeder
Digital Derive is a platform developed senseable city lab that allows to visualize the volume & geographic source of cell phone usage in Graz, showing a visual conceptual layer in the use & experience of the city.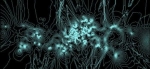 From the lab web site:

Digital Derive harnesses the potential of mobile phones as an affordable, ready-made and ubiquitous medium that allows the city to be sensed and displayed in real-time as a complex, pulsating entity. Because it is possible to simultaneously 'ping' the cell phones of thousands of users - thereby establishing their precise location in space at a given moment in time - these devices can be used as a highly dynamic tracking tool that describes how the city is used and transformed by its citizens. The polis is thus interpreted as a shifting entity formed by webs of human interactions in space-time, rather than simply as a fixed, physical environment. Digital Derive provides a platform upon which the contemporary city can register the flux and traces its self-constructing and open-ended nature. Previous initiatives, notably Laura Kurgan's 'You Are Here: Museu' (1996) and the Waag Society's 'Amsterdam Real-Time' (2002) initiated this process by exploring the qualities and potential of GPS technology. Digital Derive builds on an expands these efforts by using cell phone technology, for the first time, to radically increase the interactive capacity and number of users involved in the mapping of the city. Digital Derive (re)presents the city displayed simultaneously in the Kunsthaus Graz and in a publicly accessible website.


Sep 12, 2005
In this paper published on September/October issue of IEEE Pervasive Computing Journal Margaret E. Morris describes how social-networking and pervasive computing technologies can be used to help reduce feelings of social isolation and depression in elderly individuals.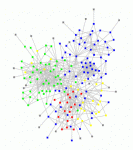 In this approach, sensor data measuring phone calls and visits are used to derive public displays of social interactions with relatives and friends, which they introduced into select elders' homes. According to Morris and colleagues, as people see their social interactions illustrated in these feedback displays, their feeling of social isolation is reduced.
Margaret E. Morris. "Social Networks as Health Feedback Displays," IEEE Pervasive Computing Journal, vol. 9, no. 5, pp. 29-37, September/October 2005.

Abstract
Social networks have thus far served primarily as analytic tools for social scientists. Leveraging pervasive computing, this new research transforms social-network models into behavioral feedback displays. These ambient displays, which reflect data on remote and face-to-face interaction gathered by wireless sensor networks, were intended to raise awareness of social connectedness as a dynamic and controllable aspect of well-being. An interdisciplinary health technology research group at Intel recently developed and tested prototypes in the homes of older adults and their caregivers. This article reviews the psychological rationale for the project and highlights some reactions of participants to the displays.