Sep 17, 2005
View of cell-phone activity in Graz
via Future Feeder
Digital Derive is a platform developed senseable city lab that allows to visualize the volume & geographic source of cell phone usage in Graz, showing a visual conceptual layer in the use & experience of the city.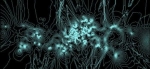 From the lab web site:

Digital Derive harnesses the potential of mobile phones as an affordable, ready-made and ubiquitous medium that allows the city to be sensed and displayed in real-time as a complex, pulsating entity. Because it is possible to simultaneously 'ping' the cell phones of thousands of users - thereby establishing their precise location in space at a given moment in time - these devices can be used as a highly dynamic tracking tool that describes how the city is used and transformed by its citizens. The polis is thus interpreted as a shifting entity formed by webs of human interactions in space-time, rather than simply as a fixed, physical environment. Digital Derive provides a platform upon which the contemporary city can register the flux and traces its self-constructing and open-ended nature. Previous initiatives, notably Laura Kurgan's 'You Are Here: Museu' (1996) and the Waag Society's 'Amsterdam Real-Time' (2002) initiated this process by exploring the qualities and potential of GPS technology. Digital Derive builds on an expands these efforts by using cell phone technology, for the first time, to radically increase the interactive capacity and number of users involved in the mapping of the city. Digital Derive (re)presents the city displayed simultaneously in the Kunsthaus Graz and in a publicly accessible website.