Sep 19, 2005
Video games promoted as effective health-care training
Games for Health is a project produced by Serious Games Initiative to promote best practices, community building, and research into how cutting-edge game design and development methodologies can aid in the creation of health tools that range from direct patient application, to personal health education, and workforce initiatives.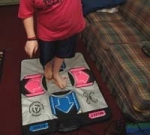 Examples of these applications include the following:
- Dance Dance Revolution: The popular dance game from Konami features an exercise mode. You set goals and play while it reports calorie burn from game sessions.
- In The Netherlands, VSTEP (Virtual Safety Training and Education Platform) has enjoyed success developing 3-D simulations for low-cost PC hardware. The "virtual experiences" are used for training oil-rig workers, emergency services, port authorities, hospital staff and military.
- Cardiac Arrest: A computer adventure game that simulates the diagnosis and treatment procedures for people suffering from various forms of cardiac arrest.
- VR Phobia: The Virtual Reality Medical Center has modified commercial games to create effective treatments for patients suffering from common phobias, including fear of flying, spiders, heights, and driving.
More to explore:

The "Serious Games Summit" is being held October 31st - November 1st, 2005, in Washington D.C. Areas of discussion range from the military and government, to health and education.
http://www.seriousgamessummit.com/home.html

"Games For Health 2005″, September 22-23, 2005, Baltimore, Maryland.
http://www.gamesforhealth.org/events.html