Jan 03, 2005
Free Papers about VR available from the Journal of Neuroengineering and Rehabilitation


Simulator sickness when performing gaze shifts within a wide field of view optic flow environment: preliminary evidence for using virtual reality in vestibular rehabilitation
Patrick J. Sparto, Susan L. Whitney, Larry F. Hodges, Joseph M. Furman, Mark S. Redfern
Journal of NeuroEngineering and Rehabilitation 2004, 1:14 (23 December 2004)
[Abstract]
[Provisional PDF]
Research
Considerations for the future development of virtual technology as a rehabilitation tool
Robert V. Kenyon, Jason Leigh, Emily A. Keshner
Journal of NeuroEngineering and Rehabilitation 2004, 1:13 (23 December 2004)
[Abstract]
[Provisional PDF]
Review
Video capture virtual reality as a flexible and effective rehabilitation tool
Patrice L. Weiss, Debbie Rand, Noomi Katz, Rachel Kizony
Journal of NeuroEngineering and Rehabilitation 2004, 1:12 (20 December 2004)
[Abstract]
[Provisional PDF]
Research
Reaching in reality and virtual reality: a comparison of movement kinematics in healthy subjects and in adults with hemiparesis
Antonin Viau, Anatol G. Feldman, Bradford J. McFadyen, Mindy F. Levin
Journal of NeuroEngineering and Rehabilitation 2004, 1:11 (14 December 2004)
[Abstract]
[Provisional PDF]
Review
Motor rehabilitation using virtual reality
Heidi Sveistrup
Journal of NeuroEngineering and Rehabilitation 2004, 1:10 (10 December 2004)
[Abstract]
[Provisional PDF]
Review
Presence and rehabilitation: toward second-generation virtual reality applications in neuropsychology
Giuseppe Riva, Fabrizia Mantovani, Andrea Gaggioli
Journal of NeuroEngineering and Rehabilitation 2004, 1:9 (8 December 2004)
[Abstract]
[Provisional PDF]
Editorial
Virtual reality and physical rehabilitation: a new toy or a new research and rehabilitation tool?
Emily A Keshner
Journal of NeuroEngineering and Rehabilitation 2004, 1:8 (3 December 2004)
[Abstract]
[Provisional PDF]
FROM THE PRESENCE-L LISTSERV (by Mattew Lombard):


BUFFALO — Lucille Lamarca could feel her heart begin to beat
at a worrisome pace while lying alone in the intensive care unit at
Buffalo General Hospital with a heart condition.

Then from a speaker came a reassuring voice.

"Hi, I'm here," the voice said. "The nurse is on her way. You're
going to be OK."

It was the voice of a doctor who had been keeping an eye on
Lamarca from an office building miles away, via a remote camera
and a bank of computer screens.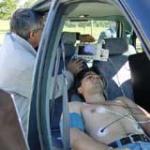 The hospital's parent, Kaleida Health System, is among an
expanding number of hospital systems adopting "enhanced
intensive care" technology — known as eICU — that allows
critical care doctors and nurses to monitor dozens of patients at
different hospitals simultaneously, much like an air traffic
controller keeps track of multiple planes.

From the Kaleida control station Monday, health professionals
were monitoring 58 patients at two hospitals via screens that
displayed patients' diagnosis and progress, doctors' notes and
real-time vital statistics like heart rate and blood pressure. The
remote caregivers alerted their onsite counterparts to changes or
potential problems through videoconferencing at the nurses'
stations.

Kaleida, which expects to bring its three other hospitals online in
the spring, stressed the technology is meant to enhance, not
replace, onsite care by allowing doctors to more quickly catch
and respond to trouble.

Kaleida is investing $4 million in personnel and equipment,
officials said.

The technology by Baltimore-based VISICU is in use at least 18
hospital systems nationwide, according to Kaleida, which this
summer became the 9th system to go online.

"I think that it changes the quality of the care in a way that could
not be equaled, even if you doubled or tripled the staffing onsite,"
said Dr. Cynthia Ambres, Kaleida's chief medical officer.

Those familiar with the technology predicted it would become
part of the future of critical care across the country, enabling
hospitals to make the best use of a limited number of intensive
care doctors.

Leapfrog Group, a nonprofit coalition of business and other
groups working to improve hospital operations, has cited a
severe shortage of intensivists practicing in the United States —
less than 6,000 at a time when nearly 5 million patients are
admitted to ICUs each year.

Sentara Healthcare was the first system to install eICU 4 1/2
years ago and now monitors 95 beds at five of its hospitals in
southeastern Virginia and northeastern North Carolina.

Sentara officials estimate the technology allowed them to save
97 lives in 2003, while covering 65 beds.

Instead of relying on a nurse to notice a problem, having her
page a physician and then having that doctor run to the ICU to
make a full evaluation, "all that information is brought to me,"
said Dr. Steven Fuhrman, Sentara's eICU medical director.

"The camera is such that I can count eyelashes," he said,
enabling him to check the patient's ventilator, intravenous
medication and anything else in the room while talking to the
patient and onsite staff.

"It's been described here as being in the room with your hands in
your pocket," Fuhrman said.

Ambres said the in-room cameras, which are not always on, are
seen as reassuring by patients, rather than an invasion of
privacy.

Lamarca, who was hospitalized in August, agreed.

"When you're in the ICU, you're very defenseless and they were
sensitive to that," she said. "I never felt it was an invasion of
privacy," said the Buffalo woman, adding that she could tell by
the position of the camera whether it was on or off.


Dec 21, 2004
By ADAM FLEMING (from www.presence-research.org) December 08, 2004 Say goodbye to your red-and-blue glasses. The once-great gimmick turned movie-house nostalgia could be in the waning hours of its twilight years, as scientists at the Pittsburgh Supercomputing Center push forward with research in the blossoming field of 3-D technology, otherwise known as stereo visualization. Stuart Pomerantz and Joel Stiles hope to lower the cost and increase the convenience of displaying images and movies in 3-D for large groups of people. "We wanted to be able to show what we do in stereo, but do it, more or less, at the drop of a hat," Stiles said, "or at very high quality, but very low cost compared to one of these gigantic, multi-projector, multi-screen systems." The stereo-visualization process adopted by Pomerantz and Stiles involves two separate projectors. Each projector has a linear filter in front of its lens that polarizes the image it projects. Both images are then shown on one screen that is specially designed not to depolarize the images. By wearing a pair of sunglasses, for which each lens is polarized differently, the viewer receives separate images for each eye. And that, in effect, is the essence of viewing in 3-D. "You've got to see different images in each eye, just as we always do naturally," Stiles explained. While reading this article, try covering your left eye. Now cover your right eye while uncovering your left, and you'll notice that the paper appears to shift slightly. This is because humans see in stereo by forming a composite of two images. Stereo visualization, at its best, is an imitation of this natural process. Attaching polarizing lenses to projectors is not a new development, but Pomerantz and Stiles have coupled the process with new content and playback software. "What we needed to do new was create a pipeline for creating content in the form of movie files," Stiles said. "We wanted to use stereo as a routine thing, instead of a special case or a one-off demo." Professors at Pitt have already incorporated stereo visualization in the classroom. Kenneth Jordan and his colleagues in the chemistry department "designed and constructed a 3-D stereo-visualization system in one of the main lecture halls in the Chevron Science Center," according to an October 2002 article in the University of Pittsburgh Teaching Times. The system in Chevron allows professors to display complex molecules and structures in 3-D, as opposed to the flat models found in textbooks and drawn on chalkboards. With stereo visualization appearing in labs and classrooms, how long will it be until methods of 3-D are available in movie theaters, or even living rooms? For now, the technology is willing, but the space is weak. The projected file size of a feature-length film, packaged for stereo visualization, would be too big for any widely available equipment. But with constant improvements being made in the storage capacity of portable disks, there may one day be a triumphant return of 3-D movies, sans those old paper glasses.
Dec 10, 2004
IREX Exercise Applications

Virtual reality rehabilitation therapy applications enhance a patient's rehab experience by immersing them in a virtual reality world. While in the virtual reality environment, the patient is motivated by seeing herself/himself engaging in various sports and games. This dramatically improves a patient's focus and compliance to the activity in therapy.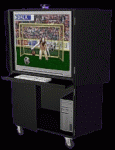 Virtual reality sport and game environments aid clinicians in the development of exercise programs geared towards the creation of therapeutic treatment protocols.
Dec 09, 2004
According to the recent "ISTAG SCENARIOS FOR AMBIENT INTELLIGENCE 2010" (European Commission, February 2001) the evolutionary technology scenarios in support of the Knowledge Society of the years 2000's will be rooted into three dominant trends:
- Pervasive diffusion of intelligence in the space around us, through the development of network technologies towards the objective of the so-called "Ambient Intelligence" (AmI);
- Increasingly relevant role of mobility, through the develpoment of mobile communications, from the UMTS towards the so-called "Fourth Generation" (4G);
- Increase of reachness and completeness of communications, through the development of multimedia technologies, towards the "Immersive Virtual Telepresence" (TIV), including an increased attention to the aspects of human perception and of person-machine interaction.


The TIV perspective is reached through the complete development of multimedia technologies, generating far away the sense of presence through the integrated availability of sound, vision, smell, touch-and-feel (haptics) signals. Typically, the sense of presence is accomplished through multisensor stimuli by means of which actual reality is either hidden and substituted with a virtual reality, i.e. fully synthetic, or is virtualized, i.e. made virtual through audio and 3-D video analysis and modeling procedures.

The convergence of AmI, 4G and TIV technologies manifests itself as the next frontier of ICT. This convergence will determine the advent of ubiquitous 3-D telecommunications and the built-up of intelligent environments for health care in which complex multimedia contents integrate and enrich the real space. The most ambitious objective is to integrate the computer interfaces in the real environment (Mixed Reality) so that the user can take advantage of the clinical care in the most natural and intuitive way.

The Neurotiv Project aims at improving the know-how level, at generating new development and application opportunities, at organizing and finalizing multidisciplinary skills, and at developing system and component prototypes for the use of TIV technologies in a managed care system for neuropsychology and clinical psychology.

More in detail, the project aims at:

- proving the technical and clinical viability of integrating TIV systems in a managed care platform for neuro-psychology assessment and rehabilitation
- designing/tuning and developing managed care tools to be used in the prevention, planning provision and follow-up of the required treatment. The developed modules will be optimised to meet the demands of the emerging 2,5G/GPRS and 3G/UMTS wireless networks and terminals.
- Defining new treatment protocols for the use of the clinical tools in assessment, therapy and follow up.
- Verify the clinical economic/organizative efficacy of the managed care system by using controlled clinical trials.
- Disseminating the obtained results through scientific papers and conference presentations.
More to explore
The NEUROTIV project web site
The main goal of
EMMA project
-a European Community funded research project (IST-2001-39192)- is to study the relationships between presence and emotions. In particular, after analyzing the possible emotional impact of high compelling synthetic experiences characterized by an high level of presence, the EMMA project wants to develop "mood devices" able to induce different forms of mood enhancement on both clinical and non clinical samples.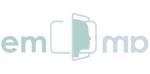 This research will help to understand better the development of some psychopathological phenomena and the development of "new correcting experiences and learnings" to cope those psychopathological experiences.
Furthermore, EMMA project will pretend the development of innovative tools to be used with three different real users:
* users of (real world) mental health services, such as treatment for anxiety disorders, depression, and so on
* users with acute restricted mobility (e.g. designed experiences for hospital inpatients), and
* mood enhancement for general population (relaxation environments through TV or VR).
VEPSY is a European-Union funded research project for Telemedicine and Portable Virtual Environments for Clinical Psychology.

The project ended in July 2003. VEPSY-updated has involved partners from an international network of academic institutions and industrial companies.

The main goal of the project was to prove the technical and clinical viability of using portable and shared Virtual Reality systems in clinical psychology.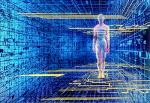 The project has provided both innovative VR based tools for the treatment of patients, clinical trials to verify their viability and dissemination of its results.

In 2004 the VEPSY project won the Honourable Mention Award at the Europan e-Health Award 2004

FROM THE PRESENCE-L LISTSERV:

New eDimensional VirtualFX Brings Mind-Blowing 3D to Your
XBOX, PS2 and More

Games Press 02/12/2004

(West Palm Beach, FL – December 2, 2004) eDimensional, the
leading manufacturer and worldwide distributor of cutting
edge gaming and virtual reality accessories, announces the
release of the new VirtualFX 2D to 3D TV Converter – bringing
a true virtual reality experience to your standard home
television.

At just $129.95 including 2 pairs of wireless 3D glasses,
eDimensional's new VirtualFX instantly converts any existing
video game into a mind-blowing 3D experience, giving players
the most lifelike gaming environment ever created – literally
putting them inside the game. Fighter planes seemingly buzz
by just inches away, racecars zoom at awesome velocity, and
First Person Shooters are suddenly a battlefield reality.

In addition to enhancing the gaming experience, the
proprietary E-D technology can also be used to watch DVDs and
even live TV in real 3D on a standard television (plasma, LCD
and projection screens are not supported).

"Our E-D 3D Glasses for the PC have been extremely popular
for years, but our recent breakthrough allows us to finally
bring that same amazing 3D effect eDimensional is known for
to the TV." explains Michael Epstein, president of
eDimensional. "With our new VirtualFX we are revolutionizing
the home entertainment experience – more interactivity, more
immersion, more realistic graphics and more exciting effects
– giving gamers and movie-watchers alike a truly mind-blowing
3D experience."

The VirtualFX package comes complete with two pair of
wireless 3D glasses, one converter box and a remote control.
Installation of the VirtualFX is a snap and is hooks up just
as easily as a regular DVD player. A dual-emitter transmitter
is utilized to give the widest viewing angle and range
possible and to beam a signal to perfectly synchronize the
refresh rate of the screen with the glasses. This
transmission also allows for additional users who have their
own pair of wireless glasses which can be purchased
individually for just $25.

The VirtualFX is available now through www.eDimensional.com.
As a bonus offer for the holidays, eDimensional is including
three 3D IMAX DVDs (A $60 value), originally shown in IMAX
theaters and specially made for exceptional 3D effects.

About eDimensional

eDimensional was founded in 2000 by a group of gamers at
heart, dedicated to creating the most realistic gaming and
entertainment experience ever. Thanks to fantastic customer
feedback and swift success, eDimensional has grown rapidly
and emerged as the leading manufacturer and worldwide
distributor of cutting-edge gaming accessories.
eDimensional's flagship product, the E-D 3D Gaming System,
was released to critical acclaim, and has since received an
unprecedented number of awards and accolades for providing
the most realistic PC viewing experience. For more
information on eDimensional and its wide array of gaming
accessories, go to eDimensional.com.
Local children reach into virtual world
Students' study hopes to help kids with motor impairments


By Shayna Garlick / Staff Writer
December 02, 2004

Seven-year-old Jewell Payne was in a virtual castle. Five blocks of different colors floated in front of her, and when she extended her hand and touched one, it disappeared. After a few minutes she had completed the exercise, and she removed her goggles to come back to reality.

Payne is one of 20 to 25 children who organizers hope will participate in this virtual reality game this semester, as part of research being conducted by Carole Dennis, chair of the occupational therapy department, and Sharon Stansfield, assistant professor of mathematics and computer science. Next semester, Dennis and Stansfield hope to have up to five children with cerebral palsy play the game, so they can evaluate its success as a treatment method for children with motor impairment.

The study allows technology that was first designed by Stansfield and computer science students in the summer of 2003 to finally be put to use.

Dennis said the study will help them compare movement in the real world and in the virtual world. Children participating in the research complete three sets of tasks, one in the real world and two in the virtual world.

In the "real world" game, a white board with five foam blocks of different colors attached to it is placed in front of the child. A computer mouse is placed on the child's knee. When instructed to touch a block, he or she clicks the mouse, touches the block and then clicks the mouse again. The child does this for the other four blocks and repeats the exercise about five times. Sensors taped to the child collect data on the distance, speed and time it took him or her to go through each motion.

The child then puts on the virtual reality goggles and completes these sets of movements in two different virtual worlds. In both of these, the child will be inside a castle with blocks floating on the wall. However, the difference lies in what happens to the blocks once the child touches them. In one set of tasks, the blocks will turn in to something fun for the child, such as an alien or Mr. Potato Head. In the second virtual world, the blocks will simply disappear.

Studies have shown that when a task is more meaningful for a person, their motor control tends to better, Dennis said. She said they will be looking to see if movements are smoother and faster in the more exciting virtual world than the one in which the blocks just disappear. She is particularly interested in helping children with hemiplegia, a type of cerebral palsy in which one side of the body is stronger than the other. She hopes to set up games with which these children can use their stronger side and won't have to work too hard to make interesting things happen.

She also hopes this motivation factor can be reverted back to the real world. For example, once researchers can analyze how a child with cerebral palsy reaches for the blocks in the real world, the child can practice that in game format and then go back to the real world again. Observers can look to see if the child's performance has improved, Dennis said. Dennis and Stansfield said they are unsure of the outcome of the research because this is the first time this kind of virtual reality research has been conducted. Although they predict that the children will work harder in and enjoy the virtual world more, they are less certain it will actually improve their motor abilities.

The study is a multidisciplinary project, combining computer science and occupational therapy. Evan Suma, a senior computer science major, started work on this project a year ago. He said aside from the technical skills, he has also learned how difficult completing multidisciplinary research can be. "You're talking different languages, and you have to sort of translate and figure out how to create something that will meet the goals of someone who speaks a totally different language than you," he said.

Eight occupational therapy graduate students are also working on the study as part of a group research course. Senior Jessica Danow said she learned how much really goes in to a research project.

"I think its always great working with real people and doing something that's the beginning steps of something that's really going to make a difference," she said.