Oct 05, 2010
Via Telemedicine and E-Health Journal newsletter
Britain's National Health Service could meet a substantial part of its $31.6 billion [USD] cost savings program simply by using technology that enables patients to monitor their own conditions, according to the health department's chief information officer. DOH CIO Christine Connelly said patients need 21st century technology to help them make informed health choices and "take control of their health and experiences." Experts note that home-based technology could reduce hospital admissions, physician call-outs and patients with repeat problems, however current access to health information is too hard, jargon-ridden and fails to reach people in their homes. The challenge, they note, is for software developers to create applications that can overcome these issues.
Mar 05, 2009
Scientists from the Universities of York and Warwick have developed the first Virtual Reality system that allows users to see, hear, smell taste and even touch. The prototype will be presented at Pioneers 09', an EPSRC showcase event to be held at London's Olympia Conference Centre on March 4
If the prototype can really do what it promises, it can have widespread applications in education, business, medical visualization and cybertherapy.
Feb 11, 2009
The new open-access journal "Annual Review of Cybertherapy and Telemedicine" is online.
ARCTT is a peer-reviewed journal covering a wide variety of topics of interest to the mental health, neuroscience, and rehabilitation communities.
The mission of ARCTT is to provide systematic, periodic examinations of scholarly advances in the field of CyberTherapy and Telemedicine through novel experimental clinical studies or critical authoritative reviews. It is directed to healthcare providers and researchers who are interested in the applications of advanced media for improving the delivery and efficacy of mental healthcare and rehabilitative services.
Sep 18, 2007
The Quebec-based company Myca has launched a new website that allows users with camera-equipped mobile phones to snap pictures of their meals, send directly to the nutritionist, and get instant feedback. The cost of the service is $10 per month.
Aug 04, 2006
Artificial feedback for remotely supervised training of motor skills.
J Telemed Telecare. 2006;12 Suppl 1:50-2
Authors: van Dijk H, Hermens HJ
Electromyographic (EMG) biofeedback can be used to train motor functions at a distance, which makes therapy at home a possibility. To enable patients to train properly without the presence of a therapist, artificial feedback is considered essential. We studied the combined effect of age and timing of artificial feedback on training muscle relaxation in 32 healthy subjects (younger: 20-35 years; older: 55-70 years). All subjects improved their performance significantly (F = 6.1, P<0.001). The effect of different timing of feedback (feedback provided during or after performance) was similar in young and older adults. However, this conclusion should be interpreted with caution owing to the small sample size. It can be argued that the artificial feedback used was too complicated for older adults to interpret. When designing remotely supervised treatment programmes, one should consider carefully the way that artificial feedback is being applied as it may enable (elderly) subjects to train without the presence of a therapist.
Apr 06, 2005
Efficient, effective and reliable remote healthcare monitoring is a holy grail in medicine but solutions have so far proved elusive. But it took a step closer to reality with the recent completion of the E-Care project.
The IST programme funded-project developed a comprehensive monitoring system to capture, transmit and distribute vital health data to doctors, carers and family. Pilot tests of the E-Care system indicate that doctors, nurses, patients and their families found E-Care reliable, simple to use and an effective method to improve the quality of care while reducing costs.
E-Care's system dynamically produces data depending who accesses a patient's record. A doctor will see all the health information, a system or medical administrator will see data relevant to them, while patients, their friends or family, will see another set of data, all coming from the one file.
The system will monitor patients with chronic, or long-term, illnesses such as diabetes or cardiovascular disease, and patients discharged after an operation or serious medical crises, such as stroke victims.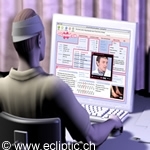 It can acquire vital information about a patient who lives far away from medical support, and it can alert medical staff if there is a dangerous change in patient's status. With e-Care's system doctors spend less time going to see patients and more time treating them. It also means real-time monitoring without high staff or capital costs.
"Citizens with long-term illnesses as well as those who are in post-surgery state, or predisposed to illness, need monitoring of their health until their condition becomes stable," says E-Care project director Mariella Devoti.
"They, as well as their family and friends, also need an efficient way to collaborate with their doctor and get informed about their state. Until now, monitoring of the health condition of such people could only be accomplished by prearranged visits from a doctor, or by visits to the local hospital for a check-up. However, this is an inefficient solution, as well as costly, as these visits would scarcely be on a daily basis."
"[By] increasing the demand for long-term care, often at home, there are fewer facilities and medical staff available per patient," says Devoti. "This situation represents an important challenge for our society and it is urgent to provide consistent solutions to avoid a deep deterioration of the quality of life of millions of people."
Building a state-of-the-art remote monitoring system
Ten partners from Italy, Greece, the UK, Germany and Cyprus joined forces to develop a remote monitoring system that could take vital data from patients, automatically add the data to the patient's chart and render the information accessible via computer for analysis at a hospital or clinic.
"E-Care makes best use of state-of-the-art know-how from a wide spectrum of disciplines, ranging from medical devices and software to workflow management system, [which brings] experience from business modelling," Devoti says.
The system includes nine components deployed across two primary elements: patient monitoring and the central system.
On the patient side there's a wireless intelligent sensor network (WISE), bio-medical sensors and a radio terminal. WISE consists of a series of monitors that track signs like activity, temperature, pulse, blood pressure and glucose or other personal data like weight, pain measurement and drug conformance. Data collected by the sensors are sent to the transmitter that sends them to the central system.
But the system can work two ways. SMS messages sent to the drug conformance device to remind the patients when they need to take medication. Patients send a confirmation once they take the drugs.
The central system includes a medical data manager (MDM), E-Care repository, collaboration module, workflow system, security system and user Web applications.
The MDM automatically checks patient data against the patient's record and any doctor's notes. If there is a disturbing change in the patient's vital signs, for example high glucose levels in a diabetic, an alarm is sent directly to the patient's physician. This provides peace of mind for patient and family and ensures a doctor or medics can respond rapidly to any problems that arise. Similarly, the MDM can alert paramedical staff or a doctor if patient data fails to arrive when expected.
The E-Care repository stores all patient data. The collaboration module allows user to communicate using real-time synchronous message, audio conferencing or videoconference. Patients and family can confer with their doctor, or GPs or nurses can confer with a specialist.
The workflow system controls overall system processes, while user Web applications dynamically format the patient data depending on who is accessing the information and what access rights they have. Layouts for doctors, patients, system administrators, medical administrators and patient relatives, each with different information, are possible.
Researchers sought to avoid re-inventing the wheel by using standard and widely adopted technologies where possible. Transmission is across standard telecoms protocols such as GSM, 3G, bluetooth, radio and landline broadband. It means the system will work with any modern hospital or clinic.
Positive results from pilots
E-Care deployed in three pilot programmes between February 2003 and February 2004 and the overall result was very positive.
"The final validation results for E-Care showed a general satisfaction among doctors and medical staff, system and medical administrators, patients and their family," says coordinator Devoti.
Users praised its practicability, reliability, effectiveness and patient acceptance. Specifically, medical staff at Aldia in Italy, one of the project partners, gave some suggestions of the possible uses of the system, for example cardiovascular disease, or patients with chronic obliterating arteriopathy.
Diabetes specialists praised the glucose monitoring system. It allows the doctor to change patient treatment based on vital sign analysis. Similarly the blood pressure monitor was particularly of interest for patients with stroke or cardiovascular disease.
With the project validation complete the partners will fine tune the system and search for commercial opportunities. Remote monitoring is not so distant.
Contact:
Mariella Devoti
coordinator@e-care-project.org
Source: Based on information from E-Care
Mar 18, 2005
From WIRED

By Kristen Philipkoski


Medical technology was supposed to remove problems caused by fallible humans: inaccurate prescriptions, wrong diagnoses and inappropriate therapies. But recent studies have shown that some technologies have caused more problems than they've solved.

Nevertheless, the Centers for Medicare & Medicaid Services, or CMS, which provides health insurance to seniors and the poor, is giving a few technologies a shot at improving the government organization's dismal track record managing patients with chronic conditions.

Medicare's history of not adequately covering preventive health services has created a culture of patients waiting until things get really bad before they'll head to the hospital. Such acute care is far more expensive than the ongoing maintenance that can fend off emergencies in the first place.

As part of the Medicare Modernization Act of 2003, CMS is sponsoring nine pilot projects involving 180,000 patients and using technologies administrators hope will improve preventive care. Officials anticipate that the program could, for example, help a diabetes patient get to the doctor before she requires a leg amputation, or allow a doctor to begin a new prescription or diet before his patient suffers heart failure.

How expensive is chronic care? Two-thirds of Medicare money ($236.5 billion in 2001) is spent on just 20 percent of those enrolled, according to a 2002 report (.pdf) from Partnership for Solutions, a group that studies chronic health conditions. Everyone in that 20 percent is coping with five or more chronic conditions. The first of the baby boomers officially become seniors in 2011, and it is clear Medicare needs help, particularly in its chronic-care approach.

"This needs to happen anyway," said Sandy Foote, senior adviser for the Chronic Care Improvement Program at CMS.



CMS has chosen patients with chronic-care needs to participate in pilot projects that will implement technologies ranging from automated phone reminder systems and interactive in-home devices that ask patients questions about their health to hospital technologies for physicians.

CMS is paying health-management organizations like McKesson and Health Dialog to deliver technologies to those patients. But if after three years Medicare doesn't see a substantial improvement in health benefits and costs compared to a randomly selected group of about 100,000 control patients, CMS will ask for an unspecified portion of the fees back.

"We're not going to lock into a technology that may very well be outdated soon," Foote said. "We're paying organizations to help people in very individualized, very personalized ways to reduce their health risks, and they can keep refining how they do that."

That means, for example, McKesson is also not bound by the technologies it has chosen to implement. If something looks like it's not benefiting -- or actually is hindering -- patients or physicians, McKesson or any of the other management organizations can nix a technology for one that might work better.

The program sets up an exceptional potential for change and innovation in a hefty, bureaucratic government organization. And recent studies showing the failure of some medical technologies suggest that flexibility might be a good thing.

Two studies published in the March 9 issue of the Journal of the American Medical Association found that technologies designed to make physicians' jobs easier sometimes didn't, and in some cases the tools actually made the doctors' work more difficult.

"The system should not control the process of doing medicine but respond to how the hospital works," said the University of Pennsylvania's Dr. Ross Koppel, the lead author of the JAMA study. "Very often the software designers expect the users to wrap themselves like pretzels around the software, rather than making it respond to the hospital's needs."
Jan 03, 2005
FROM THE PRESENCE-L LISTSERV (by Mattew Lombard):


BUFFALO — Lucille Lamarca could feel her heart begin to beat
at a worrisome pace while lying alone in the intensive care unit at
Buffalo General Hospital with a heart condition.

Then from a speaker came a reassuring voice.

"Hi, I'm here," the voice said. "The nurse is on her way. You're
going to be OK."

It was the voice of a doctor who had been keeping an eye on
Lamarca from an office building miles away, via a remote camera
and a bank of computer screens.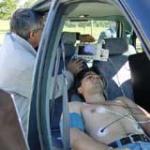 The hospital's parent, Kaleida Health System, is among an
expanding number of hospital systems adopting "enhanced
intensive care" technology — known as eICU — that allows
critical care doctors and nurses to monitor dozens of patients at
different hospitals simultaneously, much like an air traffic
controller keeps track of multiple planes.

From the Kaleida control station Monday, health professionals
were monitoring 58 patients at two hospitals via screens that
displayed patients' diagnosis and progress, doctors' notes and
real-time vital statistics like heart rate and blood pressure. The
remote caregivers alerted their onsite counterparts to changes or
potential problems through videoconferencing at the nurses'
stations.

Kaleida, which expects to bring its three other hospitals online in
the spring, stressed the technology is meant to enhance, not
replace, onsite care by allowing doctors to more quickly catch
and respond to trouble.

Kaleida is investing $4 million in personnel and equipment,
officials said.

The technology by Baltimore-based VISICU is in use at least 18
hospital systems nationwide, according to Kaleida, which this
summer became the 9th system to go online.

"I think that it changes the quality of the care in a way that could
not be equaled, even if you doubled or tripled the staffing onsite,"
said Dr. Cynthia Ambres, Kaleida's chief medical officer.

Those familiar with the technology predicted it would become
part of the future of critical care across the country, enabling
hospitals to make the best use of a limited number of intensive
care doctors.

Leapfrog Group, a nonprofit coalition of business and other
groups working to improve hospital operations, has cited a
severe shortage of intensivists practicing in the United States —
less than 6,000 at a time when nearly 5 million patients are
admitted to ICUs each year.

Sentara Healthcare was the first system to install eICU 4 1/2
years ago and now monitors 95 beds at five of its hospitals in
southeastern Virginia and northeastern North Carolina.

Sentara officials estimate the technology allowed them to save
97 lives in 2003, while covering 65 beds.

Instead of relying on a nurse to notice a problem, having her
page a physician and then having that doctor run to the ICU to
make a full evaluation, "all that information is brought to me,"
said Dr. Steven Fuhrman, Sentara's eICU medical director.

"The camera is such that I can count eyelashes," he said,
enabling him to check the patient's ventilator, intravenous
medication and anything else in the room while talking to the
patient and onsite staff.

"It's been described here as being in the room with your hands in
your pocket," Fuhrman said.

Ambres said the in-room cameras, which are not always on, are
seen as reassuring by patients, rather than an invasion of
privacy.

Lamarca, who was hospitalized in August, agreed.

"When you're in the ICU, you're very defenseless and they were
sensitive to that," she said. "I never felt it was an invasion of
privacy," said the Buffalo woman, adding that she could tell by
the position of the camera whether it was on or off.