Apr 06, 2005
Remote healthcare monitoring not so distant
Efficient, effective and reliable remote healthcare monitoring is a holy grail in medicine but solutions have so far proved elusive. But it took a step closer to reality with the recent completion of the E-Care project.
The IST programme funded-project developed a comprehensive monitoring system to capture, transmit and distribute vital health data to doctors, carers and family. Pilot tests of the E-Care system indicate that doctors, nurses, patients and their families found E-Care reliable, simple to use and an effective method to improve the quality of care while reducing costs.
E-Care's system dynamically produces data depending who accesses a patient's record. A doctor will see all the health information, a system or medical administrator will see data relevant to them, while patients, their friends or family, will see another set of data, all coming from the one file.
The system will monitor patients with chronic, or long-term, illnesses such as diabetes or cardiovascular disease, and patients discharged after an operation or serious medical crises, such as stroke victims.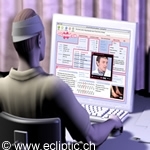 It can acquire vital information about a patient who lives far away from medical support, and it can alert medical staff if there is a dangerous change in patient's status. With e-Care's system doctors spend less time going to see patients and more time treating them. It also means real-time monitoring without high staff or capital costs.
"Citizens with long-term illnesses as well as those who are in post-surgery state, or predisposed to illness, need monitoring of their health until their condition becomes stable," says E-Care project director Mariella Devoti.
"They, as well as their family and friends, also need an efficient way to collaborate with their doctor and get informed about their state. Until now, monitoring of the health condition of such people could only be accomplished by prearranged visits from a doctor, or by visits to the local hospital for a check-up. However, this is an inefficient solution, as well as costly, as these visits would scarcely be on a daily basis."
"[By] increasing the demand for long-term care, often at home, there are fewer facilities and medical staff available per patient," says Devoti. "This situation represents an important challenge for our society and it is urgent to provide consistent solutions to avoid a deep deterioration of the quality of life of millions of people."
Building a state-of-the-art remote monitoring system
Ten partners from Italy, Greece, the UK, Germany and Cyprus joined forces to develop a remote monitoring system that could take vital data from patients, automatically add the data to the patient's chart and render the information accessible via computer for analysis at a hospital or clinic.
"E-Care makes best use of state-of-the-art know-how from a wide spectrum of disciplines, ranging from medical devices and software to workflow management system, [which brings] experience from business modelling," Devoti says.
The system includes nine components deployed across two primary elements: patient monitoring and the central system.
On the patient side there's a wireless intelligent sensor network (WISE), bio-medical sensors and a radio terminal. WISE consists of a series of monitors that track signs like activity, temperature, pulse, blood pressure and glucose or other personal data like weight, pain measurement and drug conformance. Data collected by the sensors are sent to the transmitter that sends them to the central system.
But the system can work two ways. SMS messages sent to the drug conformance device to remind the patients when they need to take medication. Patients send a confirmation once they take the drugs.
The central system includes a medical data manager (MDM), E-Care repository, collaboration module, workflow system, security system and user Web applications.
The MDM automatically checks patient data against the patient's record and any doctor's notes. If there is a disturbing change in the patient's vital signs, for example high glucose levels in a diabetic, an alarm is sent directly to the patient's physician. This provides peace of mind for patient and family and ensures a doctor or medics can respond rapidly to any problems that arise. Similarly, the MDM can alert paramedical staff or a doctor if patient data fails to arrive when expected.
The E-Care repository stores all patient data. The collaboration module allows user to communicate using real-time synchronous message, audio conferencing or videoconference. Patients and family can confer with their doctor, or GPs or nurses can confer with a specialist.
The workflow system controls overall system processes, while user Web applications dynamically format the patient data depending on who is accessing the information and what access rights they have. Layouts for doctors, patients, system administrators, medical administrators and patient relatives, each with different information, are possible.
Researchers sought to avoid re-inventing the wheel by using standard and widely adopted technologies where possible. Transmission is across standard telecoms protocols such as GSM, 3G, bluetooth, radio and landline broadband. It means the system will work with any modern hospital or clinic.
Positive results from pilots
E-Care deployed in three pilot programmes between February 2003 and February 2004 and the overall result was very positive.
"The final validation results for E-Care showed a general satisfaction among doctors and medical staff, system and medical administrators, patients and their family," says coordinator Devoti.
Users praised its practicability, reliability, effectiveness and patient acceptance. Specifically, medical staff at Aldia in Italy, one of the project partners, gave some suggestions of the possible uses of the system, for example cardiovascular disease, or patients with chronic obliterating arteriopathy.
Diabetes specialists praised the glucose monitoring system. It allows the doctor to change patient treatment based on vital sign analysis. Similarly the blood pressure monitor was particularly of interest for patients with stroke or cardiovascular disease.
With the project validation complete the partners will fine tune the system and search for commercial opportunities. Remote monitoring is not so distant.
Contact:
Mariella Devoti
coordinator@e-care-project.org
Source: Based on information from E-Care