Apr 06, 2005
Exploring the frontier of telepresence
By Geoff McMaster, ExpressNews Staff - The closest many of us have come to imagining virtual reality is the holodeck, a fantasy playground featured on the television series Star Trek.

Such flights of fancy are no longer the stuff of science fiction, however. Computer scientists at the U of A have already created technology allowing people to sit across from three-dimensional recreations of each other, even though in reality they may be thousands of miles apart.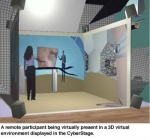 It's only the beginning of a revolution in virtual reality technology expected to take us by storm in the next decade or so, says Dr. Pierre Boulanger, a U of A computer scientist who just received an iCORE/TRLabs Industrial Research Chair worth a total of $1.7 million to develop his groundbreaking work in collaborative virtual environments.

Imagine a world, for example, where professors of surgery transmit hand and scalpel movements, as well as what they see while operating, thousands of miles across a computer network, where it is recreated in an operating room.

"The student will actually look at that and actually feel what the doctor is doing," said Boulanger. "On the other hand, the doctor can feel what the students are doing and give them a nudge in the right direction--It's like being in virtual residence with doctors."

Families separated by travel will spend meals together through what is called "telepresence," said Boulanger. "You would wear special goggles--and we're working on that--which would allow you to see your wife sitting in front of you, having a day-to-day conversation. In the future you will have virtual encounters like this, people you want to be part of a meeting sitting beside you virtually and having a conversation."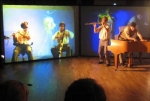 At a press conference on campus Tuesday to celebrate his chair, and that of Dr. Christoph Sensen at the University of Calgary, Boulanger explained how scientists are now able to create and manipulate a model of the earth's core by feeding computers highly sophisticated mathematical equations. Once recreated in 3D, the average person is fully capable of understanding such complex physical phenomena, he said. "People can actually interact with it, and say, "What happens if we have that instead of this?'"

"A three-dimensional visual model will allow you to explain complex systems, and understand how the world runs. People understand complex systems because daily life is actually very complex--the new technology is truly human-centred. Computers are smart enough today to adapt to people, and that's really a recent shift in computing."

The two chairs held by Boulanger and Sensen will focus on a variety of pursuits that will benefit from virtual reality technology, including engineering prototypes, testing medical procedures and conducting scientific research. Sensen, who has received $1 million for his research, is developing new tools to virtually work in the human body.

Boulanger was recruited to the University of Alberta's computing science department in 2001 from the National Research Council of Canada, where he spent 18 years as a senior research officer. He is also an adjunct scientist and principal investigator for new media at TRLabs, Canada's largest not-for-profit information and communications technology research consortium , and at the Banff Centre.

His new chair includes an iCORE Industrial Chair Establishment grant of $50,000 per year for five years, in addition to further grants from TRLabs, the University of Alberta, the Canada Foundation for Innovation, the Natural Sciences and Engineering Research Council, the Canadian Network for the Advancement of Research in Industry and Education and other industry partners.

"From my perspective, an absolutely essential part of Pierre's work on the collaborative virtual environment is described by the word collaborative," said dean of science Gregory Taylor. "It's at the very forefront of what I like to call the new science, interdisciplinary science where the collaborative team becomes the vehicle for discovery."

iCORE was established six years ago by the provincial government to support university research that supports information and communications technology. There are now 20 chairs focused on emerging areas such as wireless communications, artificial intelligence and quantum nanocomputing