Jul 21, 2006
My beating heart
My Beating Heart is an haptic relaxation pillow that gently beats out a slow, steady heart-like rhythm. The $120 heart-shaped pillow uses a rumble pack-style haptic system so that you can feel the heart beat as you hold it.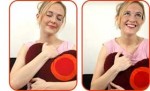 From the product's website:



My Beating Heart is a soft huggable heart with a

soothing heartbeat you can really feel

. When hugging the heart, the

tactile heartbeat

reminds you of

holding a pet or a loved-one

. Hold the heart a moment and you'll begin to sense your own heartbeat slowly syncing with My Beating Heart's carefully designed rhythm. My Beating Heart is designed to help you

relax, daydream, meditate, and nap

.