Jul 10, 2006
Convivio 2006
Via Usability News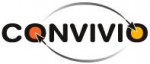 Convivio 2006 is an Interaction Design summer school sponsored by the Convivio Network, an international and interdisciplinary consortium of designers and researchers that provides an infrastructure supporting the development of "convivial technologies" - ICT products, systems and services that enhance the quality of life and human interaction.
The focus of the upcoming (August 14 - 25, 2006) summer school session in Edinburgh, Scotland is "Visions, Boundaries and Transformations in Extending or Replacing Human Capacities."
The intensive 2-week summer school combines lectures, user research, atelier work, interaction design methods and social activities. This session follows previous summers in Ivrea, Italy; Rome, Italy; Split, Croatia; and Timisoara, Romania.
Masters and PhD students as well as new professionals are encouraged to apply here

Applications are due June 10, 2006.
To learn more about the summer school go here