May 10, 2006
Smartshirt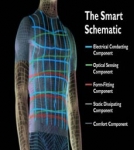 The company Sensatex is looking for beta testers for its SmartShirt System, a wearable physiological information management platform based on technology developed at the Georgia Institute of Technology.
From the website:
the SmartShirt is made using any type of fiber. It is woven or knitted incorporating a patented conductive fiber/sensor system designed specifically for the intended biometric information requirements. Heart rate, respiration, and body temperature are all calibrated and relayed in real time for analysis.

According to Sensatex, the shirt can be used to remotely monitor home-based patients, first responders, hazardous materials workers and soldiers. It also can be used to monitor signs of fatigue in truck drivers and to support athletic training.