May 07, 2006
Shake hands with the avatar
Via WMMNA
The system developed by the project U-Tsu-Shi-O-Mi:The Virtual Humanoid You Can Reach, allows the synchronization between a humanoid robot and a virtual avatar, allowing users to shake hands with the avatar.
The project will be presented at the Emerging Technologies section of the upcoming Siggraph 2006.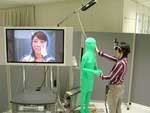 According to developers, the system is a first step towards digital-media content that merges humanoid robots and mixed reality.