Apr 20, 2006
IPRIZE: a $1,000,000 Challenge for Eye-Tracking
Via the IPRIZE website

Eye tracking is a viable next-generation human computer interface. For individuals with significant motor disabilities, eye-tracking interfaces represent one of the few or only ways to communicate effectively. Unfortunately, current eye-tracking systems are expensive (over $10,000), invasive, inflexible, cumbersome and frustrating to use.
Moreover, improvements in eye tracking technology over the last 30 years have been purely incremental.
A revolution in eye tracking will be required in order to make eye tracking the next ubiquitous human computer interface. Simultaneous factors of 10 improvements are needed in the price, intrusiveness, robustness, speed, and accuracy of eye-tracking systems.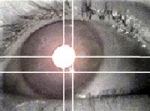 The IPRIZE is a $1,000,000 Grand Challenge designed to spark advances in eye-tracking technology through competition. Repeatedly throughout history, such Grand Challenges have lead to radical innovations that overcome significant technical and economic barriers. The IPRIZE competition will focus the efforts of scientific, engineering and entreprenuerial communities on this significant problem.

Learn more about eye-tracking technology and related applications (source:
COGAIN
project)
Portals and Links Collections
Eye Tracking Conferences and Meetings