Jan 03, 2006
Can robot demonstrate self-awareness?
Junichi Takeno and a team of researchers at Meiji University in Japan are developing a robot, which can recognize the difference between a mirror image of itself and another robot that looks just like it.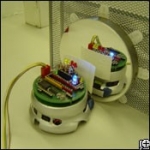 This so-called mirror image cognition is based on artificial nerve cell groups built into the robot's computer brain that give it the ability to recognize itself and acknowledge others.

According to Junichi Takeno and his co-workers, the ground-breaking technology could eventually lead to robots able to express emotions.

Read full story