Jul 25, 2005
Affective computing in healthcare: the project Myself
The EU-funded project Myself focuses on the enrichment of the simulations and the affective computing methodologies traditionally carried out in didactic classroom.
The project's idea is to integrate affective computing into virtual tutors to enhance distance learning and training applications. Affective computing is aimed at giving computers skills of emotional intelligence, including the ability to recognize and express emotions, and to respond to them effectively.
Started in Semptember 2004 and running 24 months, the project gathers industries and research performers from seven European countries (Italy, Spain, United Kingdom, Estonia, Switzerland, Poland, Holland). The project's coordinator is ACSE, an Italian company that supplies information technology services.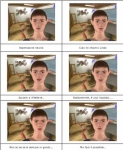 We have interviewed Dr. Fabrizia Mantovani, psychologist, who is working on the research workpackage on Affective Computing for the Center for Studies in Communication Sciences of University Milano-Bicocca, headed by Prof. Luigi Anolli.

PTJ - Dr. Mantovani, what are the potential applications of Myself project?

The target application of the project was the development of an e-learning platform endowed with affective computing capabilities (recognition of, and adaptation to, the emotional and motivational states of the users during the learning path). The second objective is development of interactive simulations for the training of communication and emotional skills in professional relationships. In this project, two main target-end users are finance and banking and healthcare professionals.

PTJ - Interesting. But how this approach can be used in healthcare?

The idea is to use 3D-agents based simulations to train physicians and caregivers on how to improve the relationships with patients and their families. Traditionally, soft-skill training is mainly carried out in classroom and face-to-face settings. In Myself, the goal is to use experiential e-learning training to support the acquisition of complex communication and procedural skills (i.e. how to deliver bad health news to the patient, enhance compliance, to be in trust in the relationship etc.), which are useful to improve the relationship between doctors and patients.
More to explore
Affective Computing Portal - a web site devoted to affective computing research
Affective Computing Lab at MIT Medialab - web site of the lab headed by Rosalind Picard
Virtual Reality Lab (VRlab) at the Swiss Federal Institute of Technology - the leading lab for virtual humans research