Jul 24, 2005
Siggraph 2005
The 32th Conference on Computer Graphics and Interactive Techniques Siggraph 2005 will be held in Los Angeles, 21 July - 4 August. This year advanced program can be downloaded here.
Unfortunately this year I am not going to attend the conference, but if I would, I could not miss Emerging Technologies. The event, hosted by the Siggraph Conference, presents work from many sub-disciplines of interactive techniques, with a special emphasis on projects that explore science, high-resolution digital-cinema technologies, and interactive art-science narrative.
An ET application I would love to see is Haptic Video, presented by Satoshi Saga and colleagues from Tachi Laboratory, The University of Tokyo. Haptic Video allows to transmit physical operations with the same precision, they say, as language.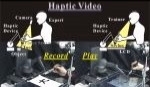 "In the recording phase", explain Saga, "position and applied force are recorded as the expert works. This information is transformed into position and impedance information, and archived in a database that can be dynamically interpolated. In the presentation phase, the impedance information is presented to the trainee along the trajectory direction, and virtual fixtures, which are like walls with elasticity, are presented orthogonal to the trajectory direction at the same time. As a result, the trainee tries to cancel the force that the expert exerted, and duplicate the desired force proactively"
According to the researchers, Haptic Video demonstrates how humans can use technology to improve their skills in a wide variety of professional and aesthetic fields, from medicine to calligraphy to etiquette.
I also believe that Haptic Video meets all the requirements of a Positive Technology. I foresee applications of this new technology in the field of healthcare, i.e. in distance rehabilitation and telemedicine.

So good luck to Haptic Video