Jul 19, 2006
From the conference's website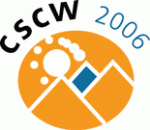 CSCW 2006 is the premier venue for Computer Supported Cooperative Work.
Please join us for the 20th Anniversary of the first CSCW meeting! We have a number of special events planned as part of our Anniversary celebration.
CSCW has consistently been at the leading edge of thinking about the role of coordination and communication technologies in our lives. With your help, CSCW 2006 will play an important role in continuing this tradition. Come and help us make our 20th Anniversary of CSCW a stimulating and exciting event.
New this year, CSCW will be running SIGCHI Best Awards programs for the Papers and Notes submission categories. These awards will recognize the most outstanding submissions in these categories.