Feb 11, 2006
Cloud is a beautiful
game
in which the gamer flies around and collects clouds. Contrary to mainstream videogames, which have plenty of violence, Cloud conveys a sense of innocence and peacefulness. I argue that Cloud could have interesting applications in the emerging field of computer-mediated relaxation.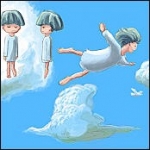 Dec 01, 2005
From The Birmingham News

When pilots learn to fly and surgeons to cut, virtual reality comes in handy where blunders can be fatal.
Learning to cross the street is no different, so David Schwebel, associate professor of psychology at UAB, is developing a virtual reality game to teach school children how to cross safely. Of 4,641 pedestrians who died nationwide last year, 363 were 14 and younger, according to the National Highway Traffic Safety Administration...
read the full article here
Sep 19, 2005
Games for Health is a project produced by Serious Games Initiative to promote best practices, community building, and research into how cutting-edge game design and development methodologies can aid in the creation of health tools that range from direct patient application, to personal health education, and workforce initiatives.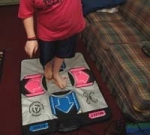 Examples of these applications include the following:
- Dance Dance Revolution: The popular dance game from Konami features an exercise mode. You set goals and play while it reports calorie burn from game sessions.
- In The Netherlands, VSTEP (Virtual Safety Training and Education Platform) has enjoyed success developing 3-D simulations for low-cost PC hardware. The "virtual experiences" are used for training oil-rig workers, emergency services, port authorities, hospital staff and military.
- Cardiac Arrest: A computer adventure game that simulates the diagnosis and treatment procedures for people suffering from various forms of cardiac arrest.
- VR Phobia: The Virtual Reality Medical Center has modified commercial games to create effective treatments for patients suffering from common phobias, including fear of flying, spiders, heights, and driving.
More to explore:

The "Serious Games Summit" is being held October 31st - November 1st, 2005, in Washington D.C. Areas of discussion range from the military and government, to health and education.
http://www.seriousgamessummit.com/home.html

"Games For Health 2005″, September 22-23, 2005, Baltimore, Maryland.
http://www.gamesforhealth.org/events.html
Jan 10, 2005
From WIRED


LAS VEGAS -- Consumer electronics companies commonly cater to couch potatoes by pitching bigger television sets, more mesmerizing video games and remote controls that can place online orders for pizza. But a small cadre of entrepreneurs at the world's largest technology exposition hope their gizmos make you work up a sweat.

Company executives insist that "exergaming" or "exertainment" -- the marriage of physical exercise and video gaming -- is becoming a hot new niche, and the most bullish aficionados say it might even help reduce the nation's obesity epidemic.

The PlayZone was tucked into a back corner of a tent outside the main convention center, far from the gargantuan exhibits by Samsung, Sony, Panasonic and other popular brands.

Although scents reminiscent of a gym sometimes wafted out of the zone, the jam-packed area was popular with retailers and analysts. Six exhibitors -- many startups new to CES -- showed off digital putting greens, optical sensors in miniature dance floors, biofeedback devices and cutting-edge workout contraptions.

One race car simulation contraption -- Kilowatt Sport from Laurel, Maryland startup Powergrid Fitness -- looked similar to a NordicTrack cross-country ski machine hooked up to a wide-screen plasma television. Moving the hand controls while trying to stand up straight on the $800 machine requires extensive flexing of the muscles in the arms, back, abdominal area and thighs.

But most of the PlayZone devices, often played on PlayStations and Xboxes, didn't feel like exercise at all -- exactly what many exertainment companies like to hear.

"The most common question I get is, 'How is this exercise? I just don't see how this is a workout,'" said Abigail Whitting, customer support manager for Kilowatt, which won a CES innovation award. "But it will tone you. It is a workout."

Some exertainment executives say their gizmos can help trim the nation's expanding waistlines -- especially among children, who might be tricked into working out if they think they're merely playing a video game.

According to the Centers for Disease Control and Prevention, 16 percent of boys and 14.5 percent of girls ages 6 to 11 were obese in 1999 and 2000, the latest years studied. That compares with 4.3 percent of boys and 3.6 percent of girls from 1971 to 1974. A sedentary lifestyle was a big contributor to the increase, the CDC said.

"If anything can get your kids off the couch, this is it," said Shawn Clement, North American sales manager for Electric-Spin, the Canadian maker of the $250 Golf LaunchPad. "The whole idea is to get physical, not get lazy."

LaunchPad includes a small putting green with optical sensors within the turf and a tethered, regulation-weight ball that players knock off a standard tee. Players use their own clubs.

Its software has a swing analysis to measure the ball's speed, curve path and other statistics based on the club's trajectory. Serious players may disconnect the tether and use a real ball at an outdoor course, then get real-time analysis of each swing from a laptop computer.

"This is a great way to promote activity," Clement said. "It's not just your average video game."

But medical experts are skeptical. Although they applaud manufacturers for getting people off the couch, they caution against relying on technology alone to slim and tone the record number of out-of-shape Americans. They say individuals, communities, private industry and governments should work together to tackle the problem.

"These video games are certainly helpful but they're not going to solve the obesity epidemic because it's simply too overwhelming," said Frank Hu, a professor of nutrition and epidemiology at Harvard.

Hu authored a study published last month of 116,500 women, finding that people who were physically active but obese were almost twice as likely to die as those who were both active and lean. The Harvard report contradicted a popular notion that exercise alone -- regardless of weight or diet -- is enough to maintain a healthy lifestyle.

But experts' pessimism didn't dampen enthusiasm of Jason Enos, product manager for Konami Digital Entertainment, who soaked through his T-shirt after hours of demonstrating his company's smash hit, Dance Dance Revolution. Players tap their feet to the correct circle on a floor pad, based on cues on the screen.

Advanced levels require fancy footwork, but players work up a sweat even on the easiest level. Players may enter height and weight to determine calories burned per minute, and they may compete against 15 other people worldwide.

Since December 2003, the Japanese company has sold more than 2 million copies of the game -- a teen phenomenon at Japanese and American arcades in the early '90s -- for Sony's PlayStation systems. The software and plastic floor mat sell for $60.

"It's definitely a workout, and it's not nearly as boring as a stationary bike," said Enos, wiping sweat from his brow. "It breaks the mold of the passive video game genre."

Dec 09, 2004
Local children reach into virtual world
Students' study hopes to help kids with motor impairments


By Shayna Garlick / Staff Writer
December 02, 2004

Seven-year-old Jewell Payne was in a virtual castle. Five blocks of different colors floated in front of her, and when she extended her hand and touched one, it disappeared. After a few minutes she had completed the exercise, and she removed her goggles to come back to reality.

Payne is one of 20 to 25 children who organizers hope will participate in this virtual reality game this semester, as part of research being conducted by Carole Dennis, chair of the occupational therapy department, and Sharon Stansfield, assistant professor of mathematics and computer science. Next semester, Dennis and Stansfield hope to have up to five children with cerebral palsy play the game, so they can evaluate its success as a treatment method for children with motor impairment.

The study allows technology that was first designed by Stansfield and computer science students in the summer of 2003 to finally be put to use.

Dennis said the study will help them compare movement in the real world and in the virtual world. Children participating in the research complete three sets of tasks, one in the real world and two in the virtual world.

In the "real world" game, a white board with five foam blocks of different colors attached to it is placed in front of the child. A computer mouse is placed on the child's knee. When instructed to touch a block, he or she clicks the mouse, touches the block and then clicks the mouse again. The child does this for the other four blocks and repeats the exercise about five times. Sensors taped to the child collect data on the distance, speed and time it took him or her to go through each motion.

The child then puts on the virtual reality goggles and completes these sets of movements in two different virtual worlds. In both of these, the child will be inside a castle with blocks floating on the wall. However, the difference lies in what happens to the blocks once the child touches them. In one set of tasks, the blocks will turn in to something fun for the child, such as an alien or Mr. Potato Head. In the second virtual world, the blocks will simply disappear.

Studies have shown that when a task is more meaningful for a person, their motor control tends to better, Dennis said. She said they will be looking to see if movements are smoother and faster in the more exciting virtual world than the one in which the blocks just disappear. She is particularly interested in helping children with hemiplegia, a type of cerebral palsy in which one side of the body is stronger than the other. She hopes to set up games with which these children can use their stronger side and won't have to work too hard to make interesting things happen.

She also hopes this motivation factor can be reverted back to the real world. For example, once researchers can analyze how a child with cerebral palsy reaches for the blocks in the real world, the child can practice that in game format and then go back to the real world again. Observers can look to see if the child's performance has improved, Dennis said. Dennis and Stansfield said they are unsure of the outcome of the research because this is the first time this kind of virtual reality research has been conducted. Although they predict that the children will work harder in and enjoy the virtual world more, they are less certain it will actually improve their motor abilities.

The study is a multidisciplinary project, combining computer science and occupational therapy. Evan Suma, a senior computer science major, started work on this project a year ago. He said aside from the technical skills, he has also learned how difficult completing multidisciplinary research can be. "You're talking different languages, and you have to sort of translate and figure out how to create something that will meet the goals of someone who speaks a totally different language than you," he said.

Eight occupational therapy graduate students are also working on the study as part of a group research course. Senior Jessica Danow said she learned how much really goes in to a research project.

"I think its always great working with real people and doing something that's the beginning steps of something that's really going to make a difference," she said.