Aug 27, 2010
A great presentation by Mattew Cornell about the concept of self-tracking and the implications of this emerging research field for people's wellbeing.
Keiichi Matsuda did it again. After the success of Domestic Robocop, the architecture graduate and filmaker got the nomination for the Royal Institute of British Architects (RIBA) Silver Medal award, for his new video "Augmented City". As in his previous work, in this new video Matsuda describes a future world overlaid with digital information, whose built environment can be manipulated by the individual. In this way, the objective physical world is transformed in a subjective virtual space.
In Matsuda's own words:
Augmented City explores the social and spatial implications of an AR-supported future. 'Users' of the city can browse through channels of the augmented city, creating aggregated customised environments. Identity is constructed and broadcast, while local records and coupons litter the streets. The augmented city is an architectural construct modulated by the user, a liquid city of stratified layers that perceptually exists in the space between the self and the built environment. This subjective space allows us to re-evaluate current trends, and examine our future occupation of the augmented city.
TO CHANGE FROM SPLIT SCREEN TO 3D/2D, CLICK THE '3D' TAB AT THE BOTTOM OF YOUR VIEWER
Aug 26, 2010
The Heart Chamber Orchestra consists of classical musicians who use their heartbeats to control a computer composition and visualization environment. To my best knowledge, this is the first example of "group biofeedback".
The musicians are equipped with ECG (electrocardiogram) sensors. A computer monitors and analyzes the state of these 12 hearts in real time. The acquired information is used to compose a musical score with the aid of computer software. It is a living score dependent on the state of the hearts.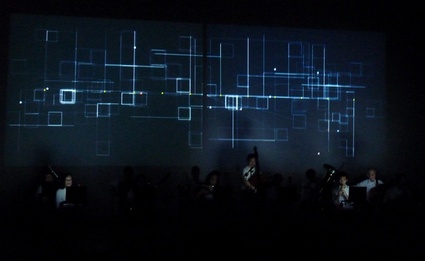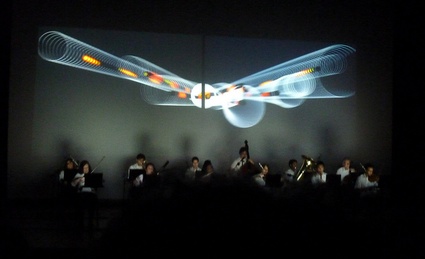 While the musicians are playing, their heartbeats influence and change the composition and vice versa. The musicians and the electronic composition are linked via the hearts in a circular motion, a feedback structure. The emerging music evolves entirely during the performance.

The resulting music is the expression of this process and of an organism forming itself from the circular interplay of the individual musicians and the machine.
The sensor network consists of 12 individual sensors; each one is fitted onto the body of a musician. A computer receives the heartbeat data. Software analyzes the data and generates via different algorithms the real-time musical score for the musicians, the electronic sounds and the computer graphic visualization

Below is a video documentation from the Heart Chamber Orchestra performance on the 28th of March 2010 at Kiasma Theatre at Pixelache Festival in Helsinki, Finland.
Aug 24, 2010
Vicon Revue is a wearable digital camera that allows to take photographs automatically, while it is being worn. In this way, the user can keep a photo log of his/her day to day life. The camera is the commercial evolution of SenseCam, a project developed by Microsoft Research in Cambridge, UK. Vicon Revue is sold to researchers for about $700, but the consumer version (expected for next year) could be significantly cheaper.
The camera is equipped with a wide-angle lens that provides a fish-eye view and contains several sensors, such as a temperature sensor, a light color and intensity sensor, an infra-red motion detector, a multi-axis accelerometer, and a 3-axis magnetometer (compass). The size of the camera is reasonably small (6.5cm w x 7cm h x 1.7cm d; 94g weight) and it includes 2GB memory.
To get an idea of the quality of the output you can take a look at this time lapse video showing images taken over the course of 24 hours with Vicon Revue.
Short-term meditation induces white matter changes in the anterior cingulate.
Proc Natl Acad Sci U S A. 2010 Aug 16;
Authors: Tang YY, Lu Q, Geng X, Stein EA, Yang Y, Posner MI
The anterior cingulate cortex (ACC) is part of a network implicated in the development of self-regulation and whose connectivity changes dramatically in development. In previous studies we showed that 3 h of mental training, based on traditional Chinese medicine (integrative body-mind training, IBMT), increases ACC activity and improves self-regulation. However, it is not known whether changes in white matter connectivity can result from small amounts of mental training. We here report that 11 h of IBMT increases fractional anisotropy (FA), an index indicating the integrity and efficiency of white matter in the corona radiata, an important white-matter tract connecting the ACC to other structures. Thus IBMT could provide a means for improving self-regulation and perhaps reducing or preventing various mental disorders.
The Large Hadron Collider, the world's largest and highest-energy particle accelerator, promises to revolutionize our knowledge of the universe and advance our understanding of the most fundamental laws of nature.
But if you are not very good at quantum physics, do not worry: you can still get an explanation in RAP format of what the LHC is all about.
A 'sound' explanation, indeed!
Aug 17, 2010
Using mirror visual feedback and virtual reality to treat fibromyalgia.
Med Hypotheses. 2010 Aug 5;
Authors: Ramachandran VS, Seckel EL
Fibromyalgia is a condition characterized by long term body-wide pain and tender points in joints, muscles and soft tissues. Other symptoms include chronic fatigue, morning stiffness, and depression. It is well known that these symptoms are exacerbated under periods of high stress. When pain becomes severe enough, the mind can enter what is known as a dissociative state, characterized by depersonalization - the feeling of detachment from one's physical body and the illusion of watching one's physical body from outside. In evolutionary terms, dissociative states are thought to be an adaptive mechanism to mentally distance oneself from pain, often during trauma. Similar dissociative experiences are reported by subjects who have used psychoactive drugs such as ketamine. We have previously used non-invasive mirror visual feedback to treat subjects with chronic pain from phantom limbs and suggested its use for complex regional pain syndrome: once considered intractable pain. We wondered whether such methods would work to alleviate the chronic pain of fibromyalgia. We tested mirror visual feedback on one fibromyalgia patient. On 15 trials, the patient's lower limb pain rating (on a scale from 1 to 10) decreased significantly. These preliminary results suggest that non-invasive dissociative anesthetics such as VR goggles, ketamine, and mirror visual feedback could be used to alleviate chronic pain from fibromyalgia. This would furnish us with a better understanding of the mechanism by which external visual feedback interacts with the internal physical manifestation of pain.
A randomized, controlled trial of immersive virtual reality analgesia, during physical therapy for pediatric burns.
Burns. 2010 Aug 6;
Authors: Schmitt YS, Hoffman HG, Blough DK, Patterson DR, Jensen MP, Soltani M, Carrougher GJ, Nakamura D, Sharar SR
This randomized, controlled, within-subjects (crossover design) study examined the effects of immersive virtual reality as an adjunctive analgesic technique for hospitalized pediatric burn inpatients undergoing painful physical therapy. Fifty-four subjects (6-19 years old) performed range-of-motion exercises under a therapist's direction for 1-5 days. During each session, subjects spent equivalent time in both the virtual reality and the control conditions (treatment order randomized and counterbalanced). Graphic rating scale scores assessing the sensory, affective, and cognitive components of pain were obtained for each treatment condition. Secondary outcomes assessed subjects' perception of the virtual reality experience and maximum range-of-motion. Results showed that on study day one, subjects reported significant decreases (27-44%) in pain ratings during virtual reality. They also reported improved affect ("fun") during virtual reality. The analgesia and affect improvements were maintained with repeated virtual reality use over multiple therapy sessions. Maximum range-of-motion was not different between treatment conditions, but was significantly greater after the second treatment condition (regardless of treatment order). These results suggest that immersive virtual reality is an effective nonpharmacologic, adjunctive pain reduction technique in the pediatric burn population undergoing painful rehabilitation therapy. The magnitude of the analgesic effect is clinically meaningful and is maintained with repeated use.
Aug 16, 2010
There is nothing more regenerating than a long sea vacation. But what we do as we are back to the office and find an overwhelming pile of email? A good recovery strategy from post-vacation stress is essential, and advanced technologies may help.
For example, My Relax 3D is a mobile application that helps you relax while watching at stunning 3D landscapes of an exotic island. When you enter the application, you can choose between highly realistic 3d environments, depicting various island scenarios (i.e. a tropical forest, a sunset)
During the experience, a voiceover provides instructions to relieve from stress and develop positive emotions.
The application is highly configurable: it can be experienced with or without 3D glasses (but I strongly recommend this option to enhance your feeling of "presence"). It is also possible to choose between different pleasant music themes.
Of course, it's not like a first class holiday in a luxury resort... but it's definitely the best you can do with five bucks!