Oct 15, 2007
Smart Ambience Therapy with Body Brush
Via the
Presence List-serv
by Mattew Lombard
An article recently appeared in Time magazine reports about Smart Ambience Therapy (SAT), a series of interactive technology programs designed by Horace Ho-Shing Ip to help children overcome the effects of abuse.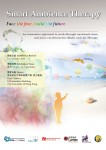 From the article:
Abused children are often withdrawn children. Ip had never considered using virtual reality to help them, but in 2002, he held a public exhibition of a virtual-paintbrush program he was working on and was surprised to see that emotionally closed kids took to it, using their bodies to create ebullient paintings. The kids' parents were shocked, but perhaps they shouldn't have been.

Since the 1990s, virtual reality has aided medicine by allowing victims of phobia or post-traumatic stress disorder to confront simulations of their fears: an oversize tarantula, a balcony on the 77th floor. Paint Splash was a natural outgrowth of those therapies.

Another program in the SAT product line helps abused kids confront aggressors by letting them shove away approaching grizzlies. A third teaches aggressive kids to reach out and touch virtual ribbons that dart away from jerky movements but glide toward smoother ones.

SAT has won a gold medal at Geneva's Salon International des Inventions, but Ip's success is evidenced best when kids come to use the lab. Many of them begin by covering the screen in black. "By the end," Ip says, "they're throwing blue. Art therapists will tell you, 'That's calm.'"
This website provides more information about Smart Ambience Therapy, including a demonstration video:
The project Smart Ambientce Therapy aims to develop a new form of therapy treatment by integrating the existing art and drama therapy to the virtual environment through an innovative exploitation of the Body Brush technology.

1. To use the body as a brush in virtual reality space. Body Brush will be used as a tool for communication and a creative emotional outlet for young clients recovering from physical/ or emotional abuse.


2. The body, acting as a paintbrush, can be seen as a unique process of accessing one's internal world, as it can help a client get in touch with emotional material through kinesthetic movements.

3. The body brush medium will be integrated into the art therapy process to help address feelings around grief and depression, distrust, fear and anger and low self-esteem resulting from abuse. What can emerge from this creative outlet are new feelings of self worth, strength, hope and coping strategies to deal with changes.

4. Through using this technique, a sense of mastery in using computer can be achieved. The client can also 'get into' the image.