Jul 03, 2006
Navigated brain stimulation
Via Emerging Technology Trends
A young Finnish company, Nexstim, has developed a non-invasive brain scanning and stimulation system called navigated brain stimulation (NBS). This system is already in use in 20 hospitals worldwide.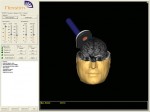 From the company's website:
Medical professionals have always dreamt of the ability to actively reach into the brain - touch instead of looking. Modern brain scanners, such as MRI, already offer sophisticated views into the human brain. Yet, these images are passive views of structures.

Nexstim's Navigated Brain Stimulation (NBS) system reaches actively into the brain. NBS guides the precise delivery of targeted transcranial magnetic stimulation (TMS) pulses to discrete brain areas. The eXimia NBS system is the only device available for accurate prediction of the TMS stimulus location and dose within the human brain.

The safe and non-invasive mapping using eXimia NBS can support neurologists and neurosurgeons to diagnoze and treat the human brain diseases, trauma, and dysfunctions.

The earliest possible diagnosis of neuronal disorders rely on detection of functional changes with active, interventive tools such as NBS.