May 01, 2006
Deep brain stimulation (DBS): the Next Revolution in Depression Treatment?
Via
Psychcentral
Researchers from the Cleveland Clinic and Brown University's Butler Hospital have conducted anl experiment to assess the potential of deep brain stimulation (DBS) for the treatment of Major Depression, the most severe category of depression. In a MD, more of the symptoms of depression are present, and they are usually more intense or severe.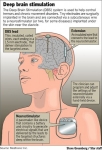 The study was conducted with Institutional Review Board (IRB) and Food and Drug Administration (FDA) Investigational Device Exemptions (IDE) approval. Six patients, four females and two males, with an average age of 48, were enrolled in the study from 2003 to 2005. All six patients had a history of being highly resistant to other treatments, including medication, psychotherapy, and electroconvulsive therapy (ECT). Bilateral DBS leads were implanted stereotactically in a region of the brain known as the ventral anterior internal capsule.

Participants underwent standardized and detailed psychiatric, quality-of-life, and neuropsychological assessments on a regularly scheduled basis, both pre- and postsurgically. At a minimum of six months postsurgery, four of the six patients showed a clinically significant reduction in depression severity of 50 percent or greater on the Montgomery-Asberg Depression Rating Scale. Quality-of-life measures improved as well, and patients showed progressive improvements in mood and functioning over time. One patient experienced persistent occipital pain that was alleviated with repositioning of a subcutaneous connector wire.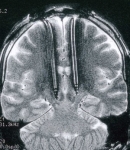 The results of this study,
Deep Brain Stimulation for the Treatment of Intractable Major Depression: Preliminary Results from a Multi-Center Prospective Trial
, were presented at the 74th Annual Meeting of the American Association of Neurological Surgeons in San Francisco (April 2006).
Larger-scale clinical trials are needed to demonstrate the effectiveness (or lack thereof) of the DBS treatment for depression.