Apr 21, 2006
The mood of your blog
Via Smart Mobs (New Scientist)

New Scientist has an article about a software called MoodViews that tracks mood swings across the 'blogosphere' and pinpoints the events behind them. Moodviews was created by Gilad Mishne and colleagues at Amsterdam University, The Netherlands. At present, MoodViews consists of three components, each offering a different view of global mood levels, the aggregate across all postings of the various moods: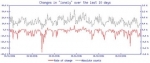 From the MoodViews website:
"Check out the impact of global events on global moods. Find out whether it is true that people drink more during the weekend. Observe states-of-mind with a cyclic nature; e.g., people feel energetic in the mornings and relaxed in the evening"