Apr 18, 2006
Cogain project: Communication by Gaze Interaction
The EU-funded five-year project COGAIN (Communication by Gaze Interaction) will attempt to make eye-tracking technologies more affordable for people with disabilities and extend the potential use of the devices to enable users to live more independently.

From the project website:
COGAIN is a network of excellence on Communication by Gaze Interaction, supported by the European Commission's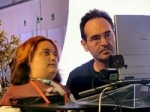 IST 6th framework program. COGAIN integrates cutting-edge expertise on interface technologies for the benefit of users with disabilities. The network aims to gather Europe's leading expertise in eye tracking integration with computers in a research project on assistive technologies for citizens with motor impairments. Through the integration of research activities, the network will develop new technologies and systems, improve existing gaze-based interaction techniques, and facilitate the implementation of systems for everyday communication.
Read the full report