Apr 18, 2006
Moving while being seated
Via Emerging Technology Trends
Researchers from Max Plank Institute (Germany) and Chalmers University of Technology (Sweden) have developed a new virtual reality prototype, which gives users the illusion of movement while being seated. According to developers, this approach could lead to commercial low-cost VR simulators in the near future.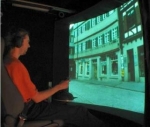 The simulator "exploits a vection illusion of the brain, which makes us believe we are moving when actually we are stationary. The same can be experienced, for instance, when you are stopped at a traffic light in your car and the car next to you edges forward. Your brain interprets this peripheral visual information as though you are moving backwards".
More information about the scientific background of this approach can be found in the paper entitled "Influence of Auditory Cues on the Visually Induced Self-Motion Illusion (Circular Vection) in Virtual Reality" (PDF format, 9 pages, 1.22 MB).

The VR system is the main outcome of the EU-funded project POEMS "Perceptually Oriented Ego — Motion Simulation".