Apr 14, 2006
Emotional Social Intelligence Prosthetic
Via Wired
Wired reports that MIT researchers are developing a wearable computer with a computational model of "mind-reading".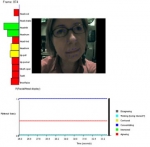 The prosthetic device should be able to infer affective-cognitive mental states from head and facial displays of people in real time, and communicate these inferences to the wearer via sound and/or tactile feedback.
According to MIT researchers, the system could help people afflicted by autism (who lack the ability to ascertain others' emotional status) in doing the "mind reading". A broader motivation of the project is to explore the role of technology in promoting social-emotional intelligence of people and to understand more about how social-emotional skills interact with learning.
A prototype of ESIP was unveiled at at the Body Sensor Networks 2006 international workshop at MIT's Media Lab last week. The video cameras captured facial expressions and head movements, then fed the information to a desktop computer that analyzed the data and gave real-time estimates of the individuals' mental states, in the form of color-coded graphs.