Apr 12, 2006
New BCI shown off at CEBIT
Via New Scientist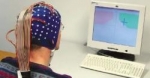 Researchers at the Fraunhofer Institute in Berlin and Charité, the medical school of Berlin Humboldt University in Germany, have developed and succesfully tested a brain-computer interface, which could provide a way for paralysed patients to operate computers, or for amputees to operate electronically controlled artificial limbs.

The device allows to type messages onto a computer screen by mentally controlling the movement of a cursor. A user must wear a cap containing EEG electrodes, and imagine moving their left or right arm in order to manoeuvre the cursor around.
The device was recently presented at the CeBit electronics fair in Hanover, Germany.

Read full article