Apr 11, 2006
New book about Ubiquitous Computing
Via Smart Mobs
Jon Lebkowsky (WorldChanging) interviews Adam Greenfield about his new book "Everyware: The Dawning Age of Ubiquitous Computing"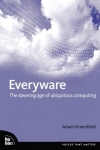 WorldChanging: So you're actually coming from a user experience perspective in your analysis of ubicomp?

Adam Greenfield: That's the genesis of it, yeah. That was the real emotional hook for me, just thinking about people having to configure their toilets and people having to configure their teapots to boil a kettle of tea. And just
taking a direct analogy with the technical systems that are around us now - you know, dropped cellphone calls and the blue screen of death, and everything that we're familiar with from the PC and mobile infrastructure.

WorldChanging: The blue toilet of death! (Laughter.)

Adam Greenfield: Can you imagine? And I think what heightened the sense of urgency was that this stuff was moving beyond prototypes in short order. It was moving toward consumer products, toward the digital home and digital convergence. The products were starting to be packaged and shipped. And still nobody was talking about the nonlinear interactions of network systems in one space all operating at once - it's as if none of the people who were designing them had, not so much thought, but felt what it would be like to sit in the middle of a room where you've got fifteen different technical interfaces around you, and you're responding to all of them at once, and they're all responding to you at once.
A List Apart presents an introduction of Everyware. Free sample sections are available at the Everyware mini site.