Mar 21, 2006
Time Magazine: how digital juggling is affecting kids' brains
Via Smart Mobs

Time Magazine's cover story this week is on kids' multitasking skills and what all that digital juggling is doing to their brains and family life.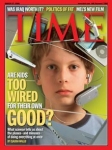 There is no doubt that the phenomenon has reached a kind of warp speed in the era of Web-enabled computers, when it has become routine to conduct six IM conversations, watch American Idol on TV and Google the names of last season's finalists all at once.
... Although multitasking kids may be better prepared in some ways for today's frenzied workplace, many cognitive scientists are positively alarmed by the trend. "Kids that are instant messaging while doing homework, playing games online and watching TV, I predict, aren't going to do well in the long run," says Jordan Grafman, chief of the cognitive neuroscience section at the National Institute of Neurological Disorders and Stroke. On the positive side, Gen M students tend to be extraordinarily good at finding and manipulating information. And presumably because modern childhood tilts toward visual rather than print media, they are especially skilled at analyzing visual data and images, observes Claudia Koonz, professor of history at Duke University.