Feb 21, 2006
Meditation may increase the thickness of the cortex
Science and Consciousness Review has interviewed brain researcher Sara Lazar on how meditation affects the brain. Lazar is the author of a recent study, in which magnetic resonance imaging was used to assess cortical thickness in 20 participants with extensive Insight meditation, a technique that involves focusing attention on internal experiences. Findings showed that brain regions associated with attention, interoception and sensory processing were thicker in meditation participants than matched controls, including the prefrontal cortex and right anterior insula. According to Lazar and her colleagues, these results provide preliminary evidence for experience-dependent cortical plasticity associated with meditation practice.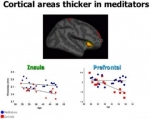 Lazar SW, Kerr C, Wasserman RH, Gray JR, Greve D, Treadway MT, McGarvey M, Quinn BT, Dusek JA, Benson H, Rauch SL, Moore CI, Fischl B.
Meditation experience is associated with increased cortical thickness
.
NeuroReport
, 2005; 16: 1893-1897.