Feb 16, 2006
Neurotech Industry Investing and Business Conference
Via Brain Waves
May 18, 2006, Millbrae, California
Westin San Francisco Airport

The Neurotech Industry Investing and Business Conference is a business and investment conference for the neurotechnology industry including pharmaceuticals, medical devices and diagnostics.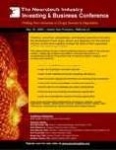 Keynotes presentations will focus on state of the neurotech industry, cutting edge company presentations, and panel discussions on a comprehensive selection of neurotech topics.
The conference main goal is to reveal critical trends driving the development of new drugs, devices and diagnostics for the brain and nervous system. It will cover
treatments for Alzheimer's, addiciton, anxiety, depression, pain, sensory disorders, obesity, stroke, schizophrenia, sleep disorders, epilepsy, Parkinson's and more
(
Agenda here
).