Nov 01, 2005
Nature Insight: Sleep
Until the mid of 20th century, most people thought of sleep as a passive part of our daily lives. Now the body of evidence suggests that the brain is very active during sleep.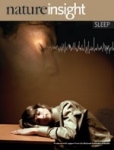 Moreover, neuroscience is beginning to understand the importance of sleep on our daily function and health.
The current issue of Nature Insight, a supplement of the journal Nature, sheds fascinating light on cognitive neuroscience of sleep.
The supplement is freely available online