Oct 03, 2005
Innovations in Stroke Care award goes to VR!
A team of four University of Ulster researchers have won Innovations in Stroke Care Award for using virtual reality in helping people with strokes regain use of their limbs.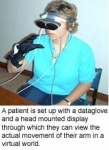 The four who received the Innovations in Stroke Care award are: Jacqueline Crosbie, Professor Suzanne McDonough and Dr Sheila Lennon from the Health and Rehabilitation Sciences Research Institute at Jordanstown along with Dr Michael McNeill from the School of Computing and Information Engineering, at Coleraine.
Congratulations from Positive Technology!
Tags: virtual reality
More to explore