Sep 29, 2005
Virtual reality helps stroke patients learn to drive again
Sept. 27 issue of Neurology reports results of a study, which has investigated the effect of simulator-based training on driving after stroke. The research has involved 83 subacute stroke patients randomly assigned to either simulator-based training or control group. Then, all patients were evaluated in off-road and on-road performance tests to assess their driving ability after training.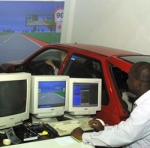 Results showed that virtual reality training improved driving ability, especially for well educated and less disabled stroke patients. However, authors warn that findings of the study may have been modified as a result of the large number of dropouts and the possibility of some neurologic recovery unrelated to training.
More to explore
A. E. Akinwuntan, W. De Weerdt, H. Feys, J. Pauwels, G. Baten, P. Arno, and C. Kiekens Effect of simulator training on driving after stroke: A randomized controlled trial, Neurology 2005 65: 843-850
Sung H. You, et al., Virtual Reality–Induced Cortical Reorganization and Associated Locomotor Recovery in Chronic Stroke: An Experimenter-Blind Randomized Study,
Stroke
, Jun 2005; 36: 1166 - 1171.
Sveistrup, H. Motor rehabilitation using virtual reality, Journal of NeuroEngineering and Rehabilitation 2004, 1:10 (download full text)