Sep 07, 2005
The Blue Brain Project
The "Blue Brain" project, a collaboration between IBM and the Ecole Polytechnique Fédérale de Lausanne (EPFL), aims to create the first computer simulation of the circuitry in the neocortex, which is the largest and most complex part of the human brain, down to the molecular level.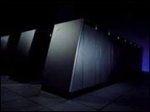 For the project, IBM will use the latest installation of IBM's BlueGene/L system running on Linux. EPFL's supercomputer uses 8.000 CPUs and has a peak speed of 22.8 teraflops (22.8 trillion calculations every second) putting it among the the world's top 15 supercomputers. The simulation code will be based on NeoCortical Simulator, an open source software running on Linux developed by Dr. Philip Goodman's.

Using the digital model generated by Blue Brain, scientists hope to shed light on complex cognitive processes such as thought, perception and memory, and to understand more about mechanisms responsible of brain malfunction.
More to explore
IBM Research Blue Gene Project Page