Sep 01, 2005
Coloring emotions
Via Siggraph 2005 Emerging Technologies web-site
Color-Enhanced Emotion is a system that recognizes facial expressions and controls skin-pigment components using a real-time processor to enhance them.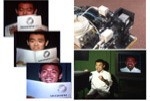 Developed by Toshiya Nakaguchi and coll. from Chiba University, the installation uses computer vision techniques to recognize feelings expressed in facial images, and then implements a hardware-accelerated real-time processing system to control the pigment components of the skin by replicating a broad range of conditions with color enhancements: fair, suntanned, pale, red-faced, etc. Registration cameras decompose the surface reflection of the face to enhance it with the colors associated with commonly observed emotions.
According to Nakaguchi and his colleagues, the Color-Enhanced Emotion project may impulse the development of a new communication paradigm and a lead to the creation of new generation of video-editing technology.