Aug 03, 2005
You can walk and there is no limit
Via the Presence-L Listserv
(From The Seattle Times)

Christina Siderius, Monday, July 25, 2005

Walk in cyberspace: With virtual-reality software, users feel like they're moving even if they're actually sitting on the couch. VirtuSphere wanted to create a device that would allow the user to move limitlessly while using such software — without bumping into walls or falling over. The solution: VirtuSphere, founded in November, created a giant hollow ball that works like a spinning hamster wheel.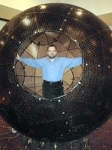 Wearing a head-mounted display, a user can step inside the 8.5-foot-tall sphere and experience physical movements while the mind is in cyberspace. "The purpose is to enable natural motion," said Palladin. "You can walk and there is no limit."
How it works: As the user moves, the ball rolls, sending coordinates to a computer. The computer evaluates the information and relays it back to the user's display in the form of a changed view. The sphere, which costs between $50,000 and $100,000, can be made compatible with any computer-based simulations.. READ THE FULL ARTICLE