Jul 27, 2005
Workshop on Personalisation for e-Health
Via Psychnology
Workshop on Personalisation for e-Health to be held in conjunction with UM 2005 Edinburgh, UK, July 2005

The past years have witnessed unprecedented levels of investment in the e-Health sector, both in terms of research effort, and in terms of funding, as well as a great public interest. e-Health can be broadly defined as the application of IT (especially Internet technologies) to improve the access, efficiency, effectiveness and quality of any processes (clinical and business alike) related to health care. In the e-Health vision, intelligent systems would, for example, enable: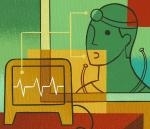 - citizens to take more control of their well-being, by accessing personalised and qualified health information, both medical and pedagogical, and accessing appropriate medical care from their homes;
- health professionals to manage their activity more efficiently, by receiving relevant and timely updates; and
- teams of health professionals to work together more effectively, coordinating their activities, sharing their knowledge about the patients they are collectively taking care of, and ensuring the best coordinated care is provided.