Jul 19, 2005
Vagus Nerve Stimulation System for Severe Depression
Via Medgadget

The Food and Drug Administration has recently approved a new treatment for severe depression based on a nerve stimulation system that delivers tiny electric shocks through vagus nerve and into a region of the brain thought to play a role in mood.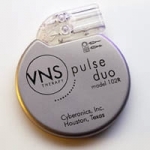 Cyberonics Inc.'s stimulation system is an adjunctive long-term treatment of chronic or recurrent depression for adults who are experiencing a major depressive episode that has not had an adequate response to two or more adequate antidepressant treatments.
Despite controversy over whether it's really been proven to work, the potential treatment targets an estimated 4 million Americans with hard-to-treat depression.