Jun 27, 2005
Tennis for the visually impaired
From Near near future

Tennis Sensation is a tennis game that allows a wide variety of users, particularly the visually impaired, to compete fairly.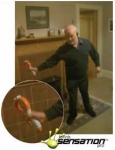 It uses spatial (3D) audio, to represent sounds at locations in space, enabling the user to locate the virtual ball. The handle of the "racquet" shows correct orientation and grip through contours and materials.

Skill and physical ability can be altered to allow use by the elderly and disabled. A handicapping level selection enables a grandparent to play with their grandchild. The game can be played by people in different locations. When gripped from the charger the product turns on and connects to the headphones automatically. It can connect through an internet connection or use the 3G phone network. Menus are navigated by tilting and options selected by squeezing the grip. Vibropads in the grip give the subtle vibrations associated with good and bad tennis shots, and haptics give the feel of a ball on the racquet at virtual impact. Banks of LEDs explode on impact, with colour representing the quality of the shot. A dedicated synthesiser generates the stereo sound and audio cues, and a Motorola RISC microprocessor performs the calculations.