Jan 04, 2005
MMVR13: Medicine Meets Virtual Reality
Medicine Meets Virtual Reality 2005

Long Beach, California, January 26 - 29, 2005

MMVR is the premier forum for computer scientists and physicians who develop, refine, and promote advanced, data-centered tools for clinical care and medical education. MMVR stimulates interdisciplinary networking and collaboration for improved research, validation, and commercialization.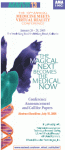 Primary MMVR foci are medical and surgical simulation and information-guided diagnosis and therapy, along with supporting technologies: imaging, modeling, haptics, visualization, robotics, and informatics. Lectures, posters, workshops, and panels educate creators and advocates of emerging technologies.

MMVR encourages a vigorous discussion of current progress – from engineering groundwork, through assessment and validation studies, to experience with clinical and academic utilization and commercialization.

MMVR engineers, clinicians, and educators are a vanguard community of thinkers envisioning and making real the future of healthcare and medical education.