Jan 04, 2005
Experience Colors!
Art | Color becomes all in Arcadia installation

By Edward J. Sozanski
Inquirer Columnist

Olafur Eliasson's installation at Arcadia University, Your colour
memory, might be the most intense and disorienting sensory
experience you'll ever have.

Being inside this oval space suffused with the most vivid color
imaginable, shifting at random through every hue of the spectrum
and then some, is like standing inside a sunrise.

The installation that transforms the Arcadia gallery into a color-
immersion chamber is complex technically, but easily described.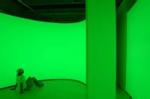 Inside the rectangular, high-ceilinged room, Eliasson has
constructed an oval, open-topped chamber with a small chamber
at one side that's curtained off.

One enters at the side, at a point where the encircling wall
separates like the first coil of a spiral. The inside surface of the
oval is made of translucent plastic stretched as taut as a
drumhead.

Inside the wall, whose outside surface is opaque, Eliasson has
installed a series of computer-controlled lights and filters. These
lights generate random sequences of primary and secondary
colors that change unpredictably.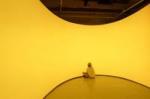 To say that the light in this chromatic bombardment is intense
understates the effect, which admittedly varies for each visitor.
We all see and react to colors differently, but I doubt anyone with
normal color vision would deny that Eliasson's installation
transforms color into a physical presence.