Jan 17, 2006
Physical and occupational therapists at Rush University Medical Center are using diagnostic technology and computerized balance retraining device for patients with disequilibrium, dizziness, orthopedic or head injuries regain their stability.
The computerized balance retraining device uses visual biofeedback, coupled with sensitive, real-time monitoring of patient movement on a force platform. According to Rush UMC rehabilitation professionals, the method improves a patient's overall balance through motivating protocols that can be progressed as the patient's capabilities improve.

Jan 14, 2006
Preoperative Biofeedback Assisted Behavioral Training to Decrease Post-Prostatectomy Incontinence: A Randomized, Controlled Trial.
J Urol. 2006 Jan;175(1):196-201
Authors: Burgio KL, Goode PS, Urban DA, Umlauf MG, Locher JL, Bueschen A, Redden DT
PURPOSE: We tested the effectiveness of preoperative biofeedback assisted behavioral training for decreasing the duration and severity of incontinence, and improving quality of life in the 6 months following radical prostatectomy. MATERIALS AND METHODS: We performed a prospective, randomized, controlled trial comparing preoperative behavioral training to usual care. The volunteer sample included 125 men 53 to 68 years old who elected radical prostatectomy for prostate cancer. Patients were stratified according to age and tumor differentiation, and randomized to 1 preoperative session of biofeedback assisted behavioral training plus daily home exercise or a usual care control condition, consisting of simple postoperative instructions to interrupt the urinary stream. The main outcome measurements were duration of incontinence (time to continence), as derived from bladder diaries, incontinence severity (the proportion with severe/continual leakage), pad use, Incontinence Impact Questionnaire, psychological distress (Hopkins Symptom Checklist) and health related quality of life (Medical Outcomes Study Short Form Health Survey). RESULTS: Preoperative behavioral training significantly decreased time to continence (p = 0.03) and the proportion of patients with severe/continual leakage at the 6-month end point (5.9% vs 19.6%, p = 0.04). There were also significant differences between the groups for self-reported urine loss with coughing (22.0% vs 51.1%, p = 0.003), sneezing (26.0% vs 48.9%, p = 0.02) and getting up from lying down (14.0% vs 31.9%, p = 0.04). No differences were found on return to work and usual activities or quality of life measures. CONCLUSIONS: Preoperative behavioral training can hasten the recovery of urine control and decrease the severity of incontinence following radical prostatectomy.
Mar 31, 2005
Biofeedback is a treatment technique in which people are trained to improve their health
by using signals from their own bodies. Physical therapists use biofeedback to help stroke
victims regain movement in paralyzed muscles. Psychologists use it to help tense and
anxious clients learn to relax. Specialists in many different fields use biofeedback to help
their patients cope with pain.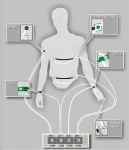 Research has demonstrated that biofeedback can help in the treatment of many diseases and painful conditions. It has shown that we have more control over so-called involuntary bodily function than we once though possible. But it has also shown that nature limits the extent of such control. Scientists are now trying to determine just how much voluntary control we can exert.

Clinical biofeedback techniques that grew out of the early laboratory procedures are now
widely used to treat an ever-lengthening list of conditions. These include:

·Migraine headaches, tension headaches, and many other types of pain
·Disorders of the digestive system
·High blood pressure and its opposite, low blood pressure
·Cardiac arrhythmias (abnormalities, sometimes dangerous, in the rhythm of the heartbeat)
·Raynaud's disease (a circulatory disorder that causes uncomfortably cold hands)
·Epilepsy
·Paralysis and other movement disorders


Low-cost biofeedback devices and products

ProComp Infiniti
Powerful 8 channel encoder provides real-time biofeedback and data acquisition in any clinical setting.




The Journey to Wild Divine
Learn to relax while playing this immersive new biofeedback videogame. Take a deep breath...




RESPeRATE
RESPeRATE is the only FDA-cleared, non-drug, medical device clinically proven to lower high blood pressure with no side effects.




Freeze-Framer
You'll appreciate all you can learn about the power of your heart. It's also just plain fun to play the games while you learn.




Mini C2+
This tiny 6 channel unit is an affordable, powerful multi-modality biofeedback system.




More to explore

Biofeedback Foundation of Europe
The Association for Applied Psychophysiology and Biofeedback
Society for the Study of Neuronal Regulation
The Biofeedback Certification Institute of America